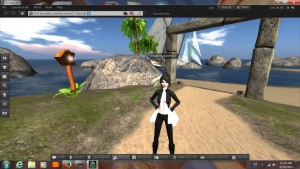 WizIQ Area | Second Life Area | Certificate Area | Webinars | YouTube Playlist | Facebook Group | #SLMOOC16 | Reflecting
Second Life MOOC for 2016
The third annual Second Life MOOC (SLMOOC16) will take place from April 1-30, 2016 on WizIQ (click here to access the course). The theme of the current MOOC is "Connecting in Virtual Worlds. Communities of Practice" There is a plethora of communities in virtual worlds promoting  education and learning through connecting online via web technologies such as Second Life. The MOOC will focus on connecting online for collaborative learning and teaching around the world through virtual worlds like Second Life, Minecraft or OpenSim. The live presentations will include the speakers' reflective process on teaching and learning in fully online and blended learning formats.
SLMOOC16 is for educators, schools, and public and private businesses that wish to provide training in virtual worlds. Weekly badges and a final certificate of completion will be available for free.
There will be 3 learning areas: WizIQ, Moodle for Teachers, and Second Life MOOC areas.
Support
You will get ongoing support from the organizers of the MOOC for the weekly topics and from support@wiziq.com Participants will be able to ask questions in advance and throughout the course in Moodle for Teachers (M4T) SLMOOC16 and on WizIQ MOOC areas. The live online classes will be recorded for future reference, so don't worry if you cannot attend or if you'd like to review the content.
Workload
The workload for the MOOC includes participating or viewing the recordings of the  live session and developing a reflective artifact in the form of video that will be added to a blog, Smore, wiki, google drive doc, website, web page on a website and so on to sustain the information relevant to your needs and learning experiences.
Weekly Topics
Getting acquainted with Second Life and Virtual Worlds

Resources and skills required for learning

Resources and skills required for teachers

Summarizing and Reflecting on the information and the process
Weekly Digital Badges
Participants will qualify for weekly badges once they complete the tasks of the week.
Certificates of Completion
Participants, who reflect on 4 weekly webinars, receive 4 badges, and fill in the feedback form at the end of the MOOC, will be eligible for a certificate of completion. The due date for the reflective practice is May 1, 2016.
Course Highlights
Experience Life in Second Life

Avatars will Present about their Lives in Second Life

Learn how to Teach in Second Life

Get Acquainted with Learning Environments in SL
Organizers
The MOOC and the live online classes is organized and coordinated by Dr. Doris Molero,  Dr. Nancy Zingrone, or Dr. Nellie Deutsch. You may contact the organizers for further information and support.
YouTube Playlist
Subscribe to the Youtube playlist for the Second Life MOOC (SLMOOC16) and watch some of the participants' videos and digital artifacts.
Certificate of Completion
Participants, who complete the tasks set out for SL MOOC will be awarded with a certificate of completion. You will need to join the Moodle course area to qualify. The presenters will receive a certificate for presenting.
Webinars