EVO has been the highlight of my school year since 2006. I am excited to invite you to submit your proposal for another round of the Electronic Village Online (EVO) for EVO18.  
Background
Since 2001, the Electronic Village Online (EVO) has functioned as a virtual extension of the Electronic Village (EV), a Special Interest group of TESOL's CALL Interest Section, and provided free online professional development sessions for language teachers world-wide.
About the Proposals
Proposals may be on any topic relevant to the teaching of English to speakers of other languages. Proposals are due by September 24, 2017. A training session will be held for all moderators and co-moderators from October 22 to November 19, 2017. During this time moderating teams will create the online spaces for their session and finalize their syllabus with the assistance of the EVO Coordination Team. The five-week EVO18 sessions will take place between January 14 and February 18, 2018.
EVO18 Coordination Team
The coordination team is ready to support you throughout the process of submitting your proposal and moderating your EVO18 session.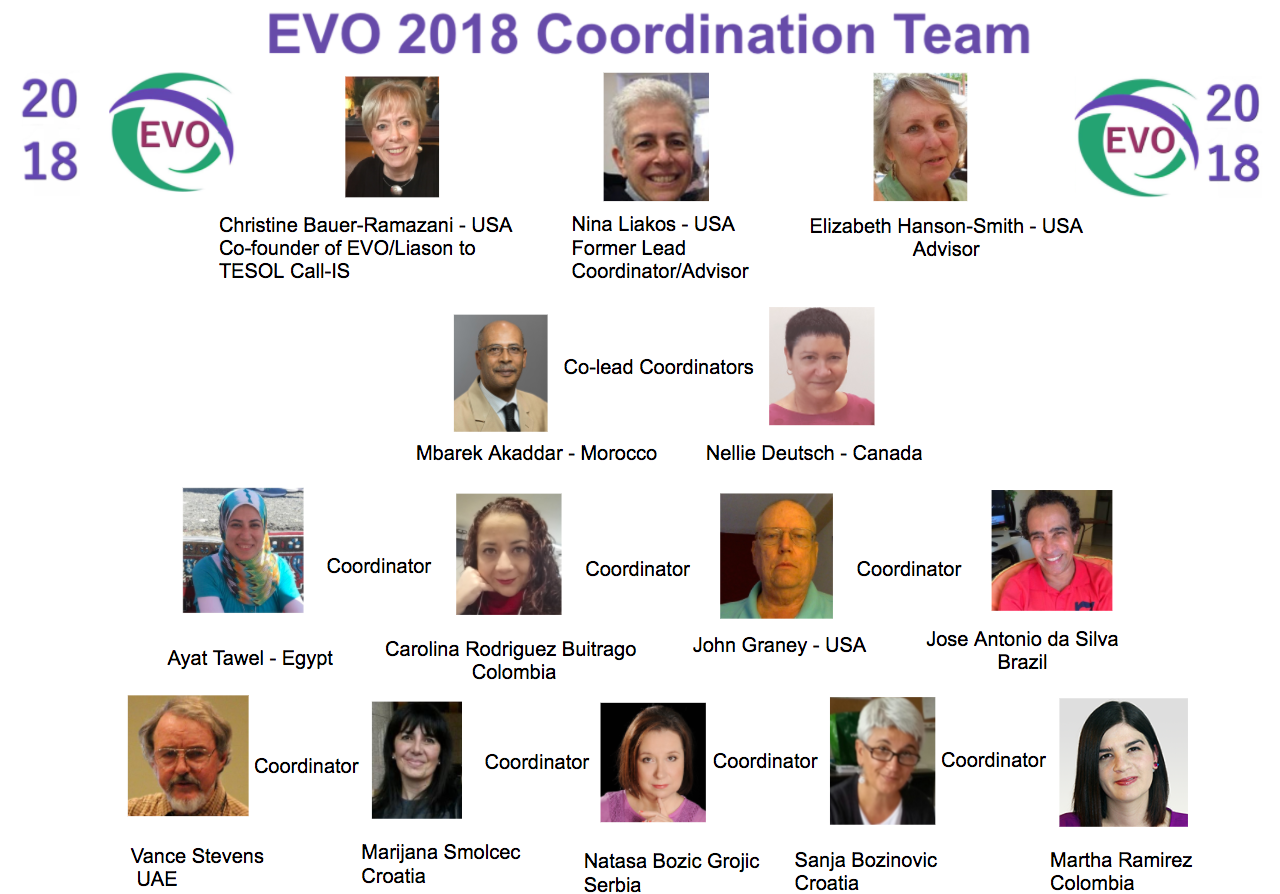 Past EVO Sessions
Learn more about past EVO sessions by going here.
Instructions for Moderators
Potential moderators will find instructions on how to create a page for their proposal here.
Individuals may offer a session, but it is strongly recommend the you work with a team of several moderators.
Deadline for proposals is September 24,  2017, so don't miss this great opportunity to moderate an EVO session. 
Submit an EVO Proposal
Fill out and submit this Google Form (to be sure we are not accepting spammers)
Request permission to edit the EVO2018 Proposals wiki. Please do add a message when you request permission, then allow 24 hours.
When your request is approved, follow the link to create your username and password, and go back to the EVO2018 Proposals wiki
Once there, "create a new page" using the option "Use a template." (see instructions on the proposals wiki)
You can return to add to or edit your proposal at any time until the September 4 deadline.
Feel free to forward this Call for Proposals (http://evosessions.pbworks.com) to other e-lists, and thank you for helping us spread the word!
EVO Social Networks